Om heel de geschiedenis, de voorbereidingen en al de anekdotes van de 4de wereldbijeenkomst van de vrienden van de 2CV te beschrijven zou een boek niet volstaan. Ik ben echter geen schrijver, maar langs dit herinneringsboek, met bescheiden foto's, wil ik iedereen die geholpen heeft tot het welslagen van het feest, bedanken.
Ook wil ik iedere deelnemer bedanken die ons zijn vertrouwen heeft geschonken en daarom soms een lange en vermoeiende reis heeft ondernomen. Bedankt voor de vriendschappelijke lach die nooit verdween ondanks de kleine organisatorische moeilijkheden die zich voordeden.
We hebben verscheidene rekords gebroken maar dat was niet onze bedoeling. We wilden een groot feest, met veel vriendschap, opbouwen en we zijn gelukkig dat we daar ook zijn in geslaagd, dank zij U allen.
3 000 personen van 22 nationaliteiten, verzameld op een weide in Vlaanderen, hebben bewezen dat echte vriendschap nog bestaat. Dat is ook niet ontsnapt aan de vele bezoekers die er dan ook verstomd van stonden.
Dat we soms zenuwachtig waren kwam door het feit dat we 700 2CV's hadden verwacht en dat er bijna dubbel zoveel aanwezig waren. Dat schept inderdaad grote problemen zoals o.a. sanitair en bevoorrading. maar de zon en het goede humeur van iedereen maakten dat alles goed is afgelopen.
Ik laat U het verloop van de gebeurtenissen ontdekken door beelden, te beginnen met de voorbereiding van de meeting. Daarna ziet ge de aankomst van de eerste deelnemers, gevolgd door het feest met de vlooimarkt, het ongewone taartentornooi, de schoonheidswedstrijd met de 2CV's, waarbij de een al gekker was dan de andere, dan komt het bezoek aan Damme met een rij 2CV's van enkele km. Tenslotte de overstroming van het terrein, veroorzaakt door een orkaan. Gelukkig hebben maar weinig deelnemers dit moeten meemaken.

Tenslotte wens ik de Duitse organisatoren van de 5de wereldbijeenkomst veel succes toe en ik hoop dat we er nog talrijker zullen zijn om onze vriendenkring nog te kunnen vergroten.

Julien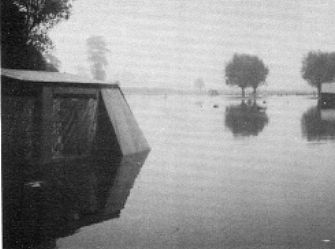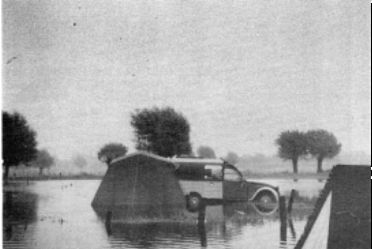 To tell you the wide story related to the 4th. world meeting of the 2CV friends a book would not be big enough .Unfortunately I'm not a writer and it would only be through this small souvenir-book that I like to thank all of you who made this feast possible. I also like to thank all the participants who trust us to make this long and expensive trip but specially for their constant and so friendly smile whonever went down in spite of our small organisation defects from that moment .
we have beaten several records but it was not the target , we wanted to make a big friendly feast and we are really happy that we succeeded thanks to you all .
3.000 people, 22 different nationalities gathered together in the field in the Flanders has proved that real friendship still exists. This did not go unnoticed by the numerous visitors who were quite surprised . If at times there was a little bother it was basically because we were expecting 700 2CV and double that amount turned . This of course caused a few problems for example with respect to the bathrooms and certain foodstuffs .
I will now let you see for yourself the filming of the event starting with the preparation of the meeting by those who arrived first , then the flea market , the cake throwing tournament , the 2CV beauty contest one looking nadder than the other ; the visit to Damme and then the floods afther the bad storm .
Lastly I would like to wish the best of luck to Germany who is organizing the 5 th. world 2CV meeting and I hope we will all meet up again with lots of new friends
JULIEN